News Releases
08-Dec-2016
BCGold. Corp. Reports Significant Base Metal Assay Results From Underground Sampling At Pucacorral

read pdf
BCGOLD CORP.
REPORTS SIGNIFICANT BASE METAL ASSAY RESULTS FROM
UNDERGROUND SAMPLING AT PUCACORRAL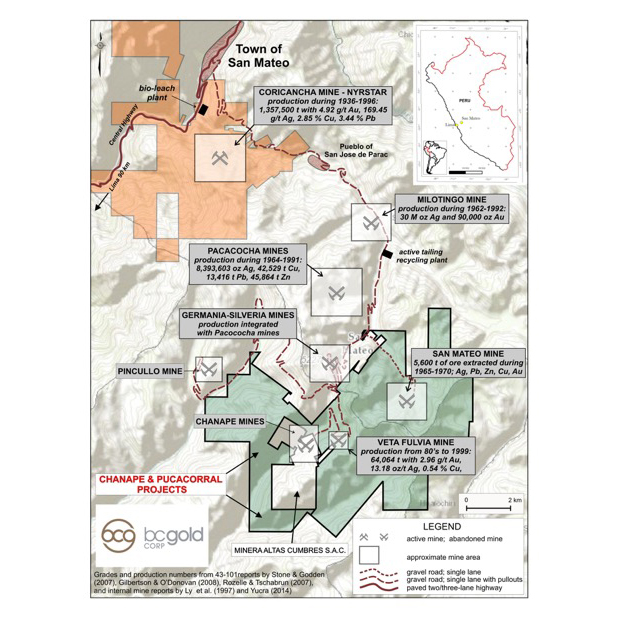 Vancouver, British Columbia,
December 8
th
, 2016 (TSX-V: BCG) – BCGold Corp. ("BCGold" or the "Company") is pleased to announce that significant base metal assay results have been received by the Company from a recently completed Phase I underground geological mapping and sampling program at the historic San Mateo mine, central to the Company's 100%-owned Pucacorral Project in Central Peru. Assay results complement significant breccia-hosted silver and copper assays recently reported by BCGold (see BCGold News Release dated December 5, 2016).
BCGold mapped and sampled 5 previously-mined poly-metallic quartz veins at San Mateo mine, over a vertical range of 175 metres within an area measuring 1.5 square kilometres, to establish a mineralization profile of the sulphide-bearing and hydrothermally altered breccias and veins. Assay results provide additional evidence of a vertical metal zonation profile, previously reported by BCGold. This profile, as one would expect in a porphyry copper-gold environment, shows higher lead and zinc values at higher elevations, giving way to an increase in breccia-hosted copper mineralization (and grades) at depth.
"Results from each component of BCGold's Phase I exploration program at Pucacorral provides increasing evidence for the existence of a large, epi-zonal intrusive-related alteration and Ag-Cu-Pb-Zn-Au mineralization system at Pucacorral," states Mr. Victor Jaramillo, M.Sc.A., P.Geo., BCGold's Pucacorral Project Geologist and Consultant. "A next phase of exploration should include additional surface geological mapping and sampling, in addition to ground I.P. and magnetic geophysical surveys to establish drill targets." BCGold expects to receive a NI43-101 technical report detailing Phase I exploration at Pucacorral in Q1 - 2017. This report will be posted on the Company's website and SEDAR.
San Mateo Mine Channel Sample Results
BCGold's sample results were obtained from approximately 350 metres of underground drift development along 5 vein structures, over a 175 metre vertical range within a 1.5 square kilometre area.
The Sairita Breccia Vein, located near the base of the Pucacorral valley floor, returned high copper and silver assay results. The high copper results give further support of an intrusive related copper system at depth, especially that some of the breccia fragments at Sairita contain disseminated pyrite and chalcopyrite.
Highlights of chip-channel sample results at Sairita include:
SAIRITA VEIN CHIP CHANNEL SAMPLES
Sample No.
Sample
Silver
Lead
Zinc
Copper
Gold
Width (m)
g/t
%
%
%
g/t
247654
0.62
76
1.33
1.87
2.47
0.16
247655
0.55
162
1.84
0.93
1.19
8.23
247657
0.96
60
2.70
0.46
1.32
0.13
247660
1.67
34
0.06
0.11
1.42
0.05
247775
1.10
26.00
0.03
0.05
1.43
0.034
247777
0.60
21.00
0.04
0.09
1.20
0.048
247778
0.60
11.00
0.04
0.08
0.40
0.204
The Lourdes and Gianella Breccia Veins, lie approximately 175 vertical meters above Sairita, and have high contents of lead and zinc with less chalcopyrite. The decrease in chalcopyrite at the Lourdes and Gianella veins suggests that both veins are more distal to the porphyry centre than the Sairita breccia vein.
Highlights of chip-channel sample results at Lourdes include:
LOURDES VEIN CHIP CHANNEL SAMPLES
Sample No.
Sample
Silver
Lead
Zinc
Copper
Gold
Width (m)
g/t
%
%
%
g/t
247678
0.84
17
0.25
0.81
0.048
0.35
247679
0.90
48
2.21
2.77
0.109
0.61
247684
0.80
20
0.41
1.14
0.081
0.27
247687
0.42
9
0.12
0.56
0.035
0.24
247690
1.10
25
0.63
1.79
0.179
0.17
247691
0.90
19
0.33
0.56
0.057
0.21
247692
0.95
31
1.27
2.66
0.121
0.43
247694
1.67
14
0.30
0.77
0.055
0.20
247696
1.50
25
1.01
2.23
0.25
0.324
247697
3.00
14
0.37
1.46
0.07
0.201
247700
1.72
15
0.76
2.08
0.07
0.122
247701
1.38
24
1.23
2.22
0.09
0.298
247703
1.60
16
0.24
0.87
0.06
0.166
247712 (*)
1.30 x 1.0
31
0.86
1.71
0.13
0.11
(*) Panel Sample
Highlights of chip-channel sample results at Gianella include:
GIANELLA VEIN CHIP CHANNEL SAMPLES
Sample No.
Sample
Silver
Lead
Zinc
Copper
Gold
Width (m)
g/t
%
%
%
g/t
247670
1.50
10
0.07
0.98
0.21
0.05
247673
1.30
11
0.15
0.41
0.20
0.07
247674
0.86
27
0.84
0.93
0.24
0.13
A surface outcrop chip channel sample of Gianella returned:
GIANELLA VEIN SURFACE CHIP CHANNEL SAMPLE
Sample No.
Sample
Silver
Lead
Zinc
Copper
Gold
Width (m)
g/t
%
%
%
g/t
247731
1.52
331
16.65
0.79
0.30
2.47
Quality Control
BCGold's sampling program was carried out under the supervision of the Company's consultant Mr. Victor Jaramillo, M.Sc.A., P.Geo., a qualified person (QP) as defined by National Instrument 43-101. All samples were bagged and tagged at the mine site, then transported to the laboratory. Channel sampling was carried out perpendicular to the full width of the veins and each sample weighed a minimum of 5 kilograms. The underground sampling was not systematic, as most of the higher-grade areas have been mined and only limited exposures of these breccia veins remain in high, hard to reach sections of the drifts.
A quality assurance and quality control (QA/QC) program was in place during the field program. All samples were directly submitted to ALS Chemex in Lima by the Company Q.P. A total 112 samples were submitted, of which 18 were QC samples and 94 were regular chip channel samples.
Qualified Person
Victor Jaramillo, M.Sc.A., P.Geo, a qualified person as defined by National Instrument 43-101, has read and approved all technical and scientific information contained in this news release. Mr. Jaramillo is responsible for the company's Pucacorral project development.
About BCGold
BCGold is a Vancouver-based junior resource company that has been listed on the TSX Venture Exchange for 10 years, with a focus on copper and gold exploration in British Columbia, Yukon and more recently, Peru. The Company acquires prospective gold and copper-gold exploration properties considered to have significant mineral potential by staking, option or purchase agreements. The Company currently has a portfolio of 2 – 100% owned gold-copper-silver properties in Peru, 10 – 100% owned and 2 partially owned gold and copper-gold properties in B.C. and Yukon.
On behalf of the Board of Directors,
Brian P. Fowler, P. Geo.
President & CEO
For further information, please contact:



Brian P. Fowler
President & CEO
Tel: 604-681-2626
Email: bcgir@bcgoldcorp.com
Gary A. Anderson
Executive Chairman
Tel: 604-857-2556
Email: gwaa123@gmail.com
Neither TSX Venture Exchange nor its Regulation Services Provider (as that term is defined in the policies of the TSX Venture Exchange) accepts responsibility for the adequacy or accuracy of this release. Some statements in this news release contain forward-looking information or forward-looking statements. These statements include, but are not limited to, statements with respect to future expenditures and exploration, development and production activities. These statements address future events and conditions and, as such, involve known and unknown risks, uncertainties and other factors, which may cause the actual results, performance or achievements to be materially different from any future results, performance or achievements expressed or implied by the statements. Such factors include, among others, the timing and completion of contemplated financings, the actual use of proceeds, receipt of regulatory approvals and the timing and success of future exploration, development and production activities. The Company expressly disclaims any intention or obligation to update or revise any forward-looking statements whether as a result of new information, future events or otherwise except as otherwise required by applicable securities legislation.